The Globe Inn Marsh, Rye
Rye is somewhere you can escape to for a two days or two weeks and be entertained and fulfilled by your stay, rain or shine.
We found ourselves in this bustling little town on a rainy long weekend in July and having camped just up the road at the cute Hare & Hounds site, we headed to The Globe Inn Marsh on a blustery Monday lunchtime.
A short walk from the station, The Globe Inn is located just on the perimeter of town, just as you take the A268 towards London. The moment you turn out of town you cross a railway track and take an immediate right onto Military Road. From here you can't miss the Globe Inn - it is striking among the houses with it's bold text and inviting exterior.
Despite it being July, smoke funnelled from the chimney into a grey sky and I asked my companion, 'surely they haven't got the fire going?'. But entering the pub, we saw it was indeed crackling away, and you know what? It actually worked. The dog sure loved it anyway.
As you come through the door the first thing you notice is a beautiful array of olives, bread and all manner of bottles begging to be tried. We were then met with a warm welcome from the staff, placed at a table near the fire and presented with a drinks menu which is both extensive and impressive with many lovingly sourced spirits, ales and wines from Sussex and Kent. It being Monday lunchtime we both felt we should ease ourselves in and asked for an ale recommendation. Two half pints of Goachers came shortly after - a light ale from the Tonbridge Brewery which is to Kent what Harvey's is to Lewes, as the friendly waitress informed us. It was a lovely ale and perfect for supping while we perused the quaint menus.
Making a decision on our food was a process in itself - it's impossible to make a quick decision and eventually we opted to ask manager Akhil on his recommendations. Akhil is clearly very passionate about The Globe and the other two pubs in the Ramblinn's group - named so as the three pubs form a perfect ramble around Rye should you visit all three. We really enjoyed seeing the relationship Akhil had with the staff who shared his passion for the food and drinks served here.
With the food selection made we then had a bit of time to take in the pub - the decor was suiting to the fish led menu (as it should be in a coastal town) with most of the decor derived from old fishing boats met with contemporary pieces. It had the risk of being twee but it was far from it in good taste and feeling very authentic, so we weren't so surprised to be told that Ramblinn's owner John is an architect and interior designer who has a lot of experience on designing pub decor around the country. It was also surprisingly busy for a Monday lunchtime with a few groups dotted about, a duo clearly on a date and some people we quickly identified as pub regulars.
While the pub feels intimate and cosy there is actually a fair bit of space - a cute outdoor area, divided dining areas and a snug under a row of hops. Upstairs there is further room that can be hired for private events. To the left of the exterior is a small market area where local food producers sell there wares on a Saturday morning. Of note was one large dining table housing the Globe from which the pub got it's name.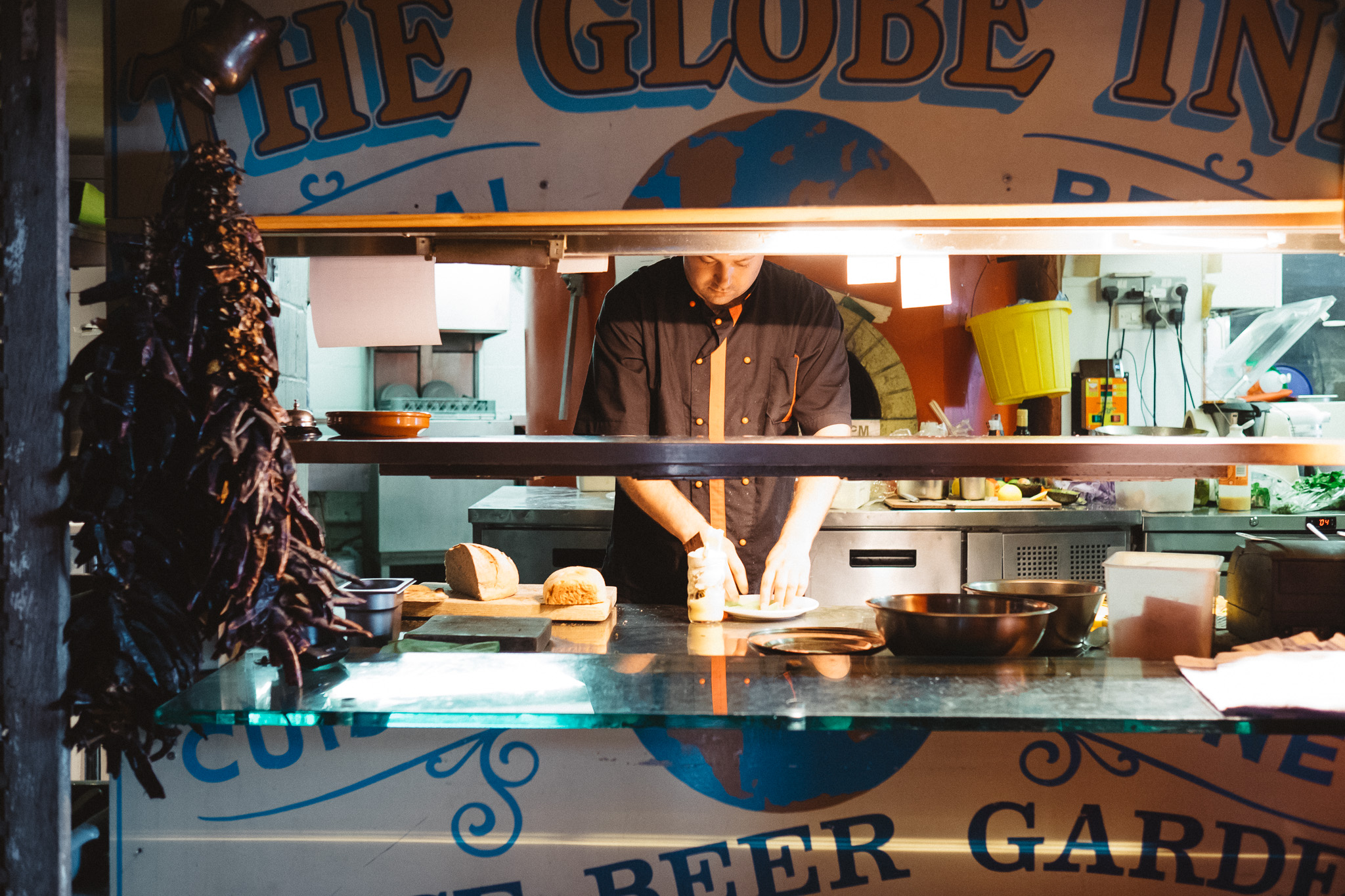 As a starter my friend Bear and I shared a fish platter consisting of smoked mackerel paté, salt and pepper whitebait, calamari, hot smoked salmon - which we both agreed was the star of the show - with tartare and samphire. Everything was fresh and tasty, cooked well and presented beautifully. We'd settled on a Chapel Down Rosé to accompany our food and were really happy with our choice - it was crisp and fresh but didn't take anything away from the food. All fish on offer at The Globe is local from Rye and Dungeness by default.
I had the Lookers and Hookers skewers for my main - salt marsh lamb (local to Rye) and prawns with chargrilled vegetables and marsh potatoes (which appeared to mean herbed boiled potatoes with butter). The lamb was incredible, my only complaint the very large dose of honey and mustard dressing on the salad that slightly dominated.
I have to admit to huge chip envy for the triple cooked chunky chips that came with Bear's dish of lobster. Luckily with such a generous portion there was plenty to go round - even the dog got to sample some. The lobster was delicate and tender with a substantial amount of meat.
Just when I thought it was impossible to imagine fitting any more food in a dessert menu arrived. While I could stomach only an espresso, Bear had tacticly managed to resist eating too many chips and was feeling able to fit in a fruit crumble - it was a good job he had left some room as the biggest portion of crumble I've ever seen arrived shortly after. The joy of a coffee after a main course is that it always helps create just that little bit more space to allow a few spoonfuls of dessert sampling - meaning I can confidently tell you that the crumble was delightful in a fresh but biscuity manner. All in the name of research of course.
The Globe Inn Marsh is a hearty pub in all respects and is deserving of your visit whatever time of year. That said, it definitely stands out as a hunkering down pub - perfect for finishing off a day on a blustery walk. And with the nearby Camber beach and, of course, the marshes there is no question of being without a walking terrain to precede your visit to this wonderful inn.