Introducing Charlotte's Cupboard
Everyone is talking about plastic and many people are making resolutions to use less which is encouraging to see but implementing this into our everyday lives where all our major food retailers are still using excessive packaging isn't easy.
What it takes is for a sassy pair of Sussex ladies to have the guts and the business sense to begin a wave of change by pioneering a service that helps us live without packaging. Enter Charlotte's Cupboard!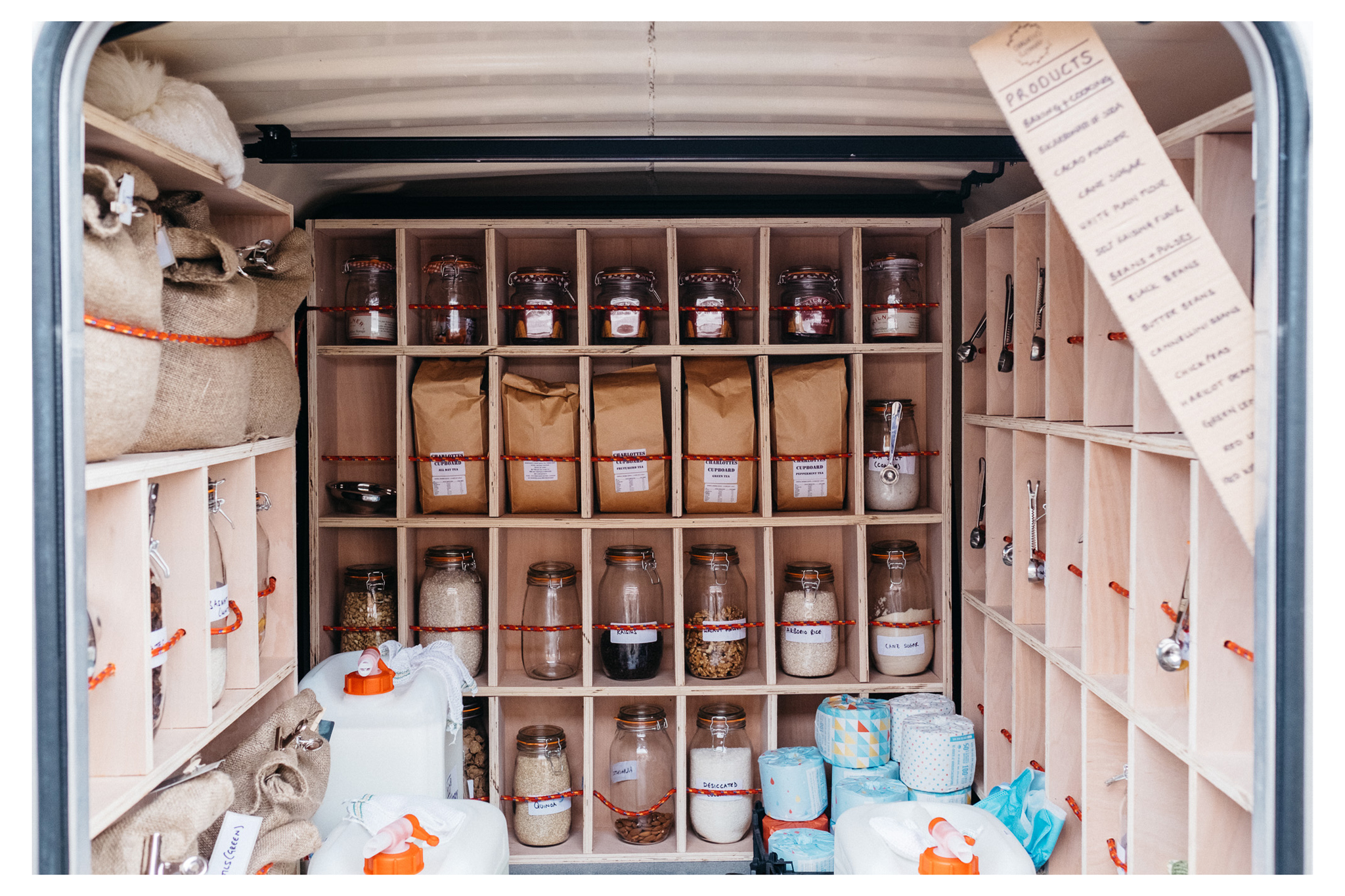 I first met Charlotte and Thalassa, with their van Peggy, on a very rainy day in the castle Precincts of Lewes where I was photographing some portraits of the 3 of them and I was struck by how sharp and funny these girls were and how very passionate they were about bringing to Sussex their way of living.
The concept is simple and genius in equal measures - Peggy holds sacks, jars and vats of loose goods, spices, grains, pulses, herbs, cleaning products, loo rolls from Who Gives a Crap and many other things and all you have to do is book a delivery or show up to one of their market days with your own containers and you can stock up! There is no need for packaging and you get the food you pay for and nothing more.
The second time I met the three women was yesterday at Burgess Hill market for their launch day. There was a real buzz around the van and people congratulating the girls for the venture, which was wholeheartedly deserved. Peggy looked beautiful and Charlotte and Thalassa were charming in their aprons and with their warm wit. There was a queue of people ready to fill up their containers, which were coming in all shapes and sizes, no judgements there. And if you happened to stumble across them unprepared, the team have you covered - they have sterilised used jars ready to give away to customers. And indeed welcome all your empty jars which they take away and sterilise for reuse.
I had some stocking up to do myself and was delighted to find I was paying a lot less than usual on some of the items, filling up an old Method washing up liquid container with the Bio D version cost less than half the price of the original. I also filled a huge Kilner jar with oats for a snip at just above a pound. There really is no excuse for not shopping like this when these guys make it so easy!
Charlotte's Cupboard will be making more appearances throughout the county as they grow but I hope you'll join me in supporting and congratulating the team for such an incredible start and putting into action a great concept that will hopefully inspire people in other counties to create similar ventures.
Check out their website for more information and details on where to find them or how to book a delivery.