Camping in Dorset - where to stay and alternative things to do on a short break on the Isle of Purbeck
There is something that draws me back to the Dorset coastline every year - the rolling beauty of the Jurassic Coast and the old stone houses. There's so much to explore that no one trip is ever the same.
I make a point of visiting Dorset most years - it's not too far that it feels like a slog and is quite a world away from the life I'm used to in Brighton. I used to live in Bournemouth but typically, barely made use of the beautiful landscapes nearby opting to stay in town on weekends instead. I do have fond memories of free parties at the caves I talk about below though - though this was a very different visit!
I usually make the Dorset trip solo (with Monty Moo of course) so it was lovely to go back with Simon this year and discover some new places with him.
Camping
I always stay at Woodyhyde, just near Corfe Castle, originally found on Cool Camping. For me it has everything I need - good, hot showers, a well stocked shop and some footpaths leading to some gorgeous walks. Plus the dog policy is relaxed for Monty. It's not the most picturesque (but definitely has some beautiful views, great star gazing and lovely sunset or sunrise action!) or quirky site but does everything you need and has the steam train running through the site. While open fires aren't allowed BBQ's are so you can still get your fix to a degree.
I've had friends stay at Eweleaze and Tom's Field and the verdicts are good!
Things to do
So the obvious places to visit are Lulworth Cove and Durdle Door. They are beautiful but can get very congested in season and for me it takes the magic away - it's a different case off season though. When we went to Lulworth Cove this time round I really fancied a cream tea - when the guy serving us put the FROZEN scones in the microwave I knew it was a bad idea to eat here (don't worry, we told them to forget our order). So instead I recommend finding a local bakery and taking your own on a little adventure further down the coast. If you do end up at Lulworth Cove you can make the walk over to Durdle Door which off season is a lovely thing to do.
A lot of the area around Lulworth is closed out of season in the week because it's firing ranges for the MOD - the roads are open at the weekend so for this part of the coast make sure you strike it off on the weekend - you can check timings here. It's a fascinating place to drive through in itself but our destination was Tyneham - a ghost village abandoned in World War II. Tyneham is a quiet, thoughtful place stuck in time with the intact school and church with original works and artefacts on display. From Tyneham you can walk down to Worbarrow Bay - a dog friendly bay with crystal clear water and a big hill you can climb to get some incredible views over the Jurassic Coast. I loved observing how light falling on the coast revealed rich textures.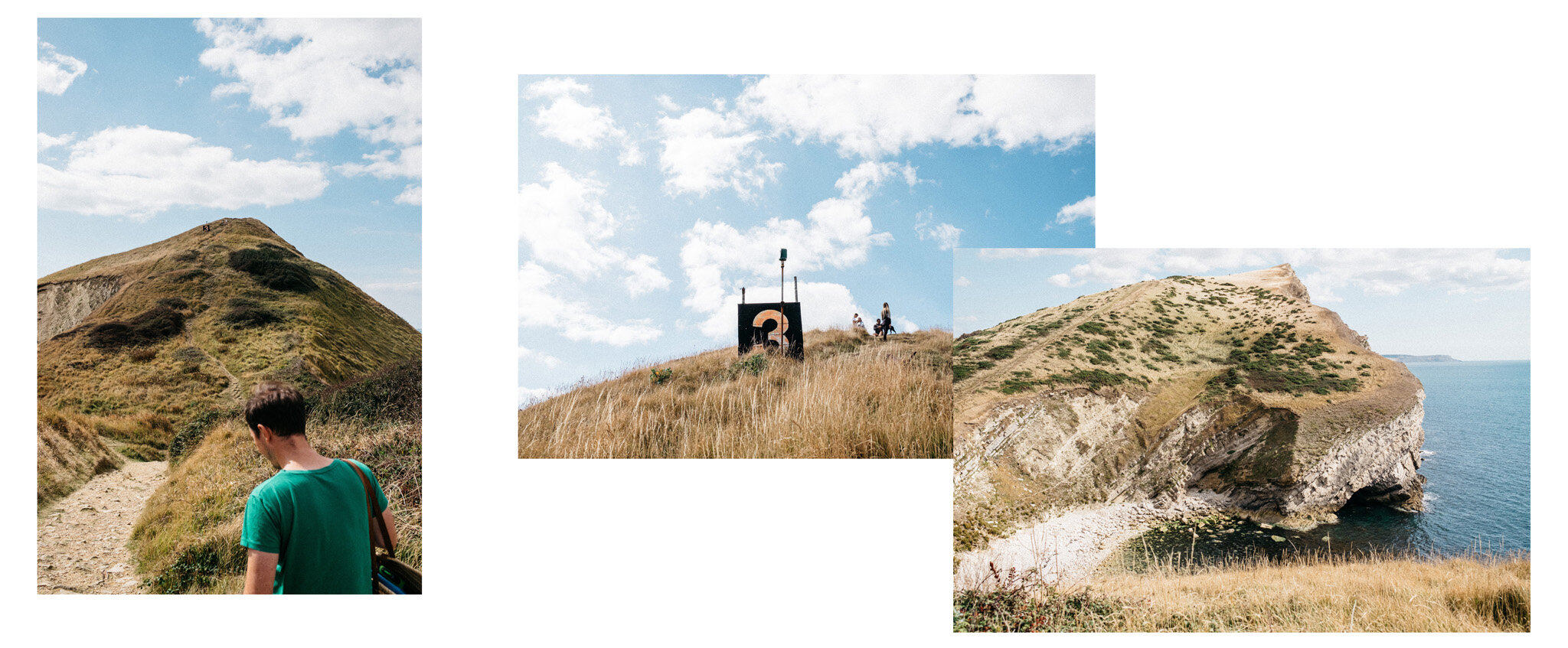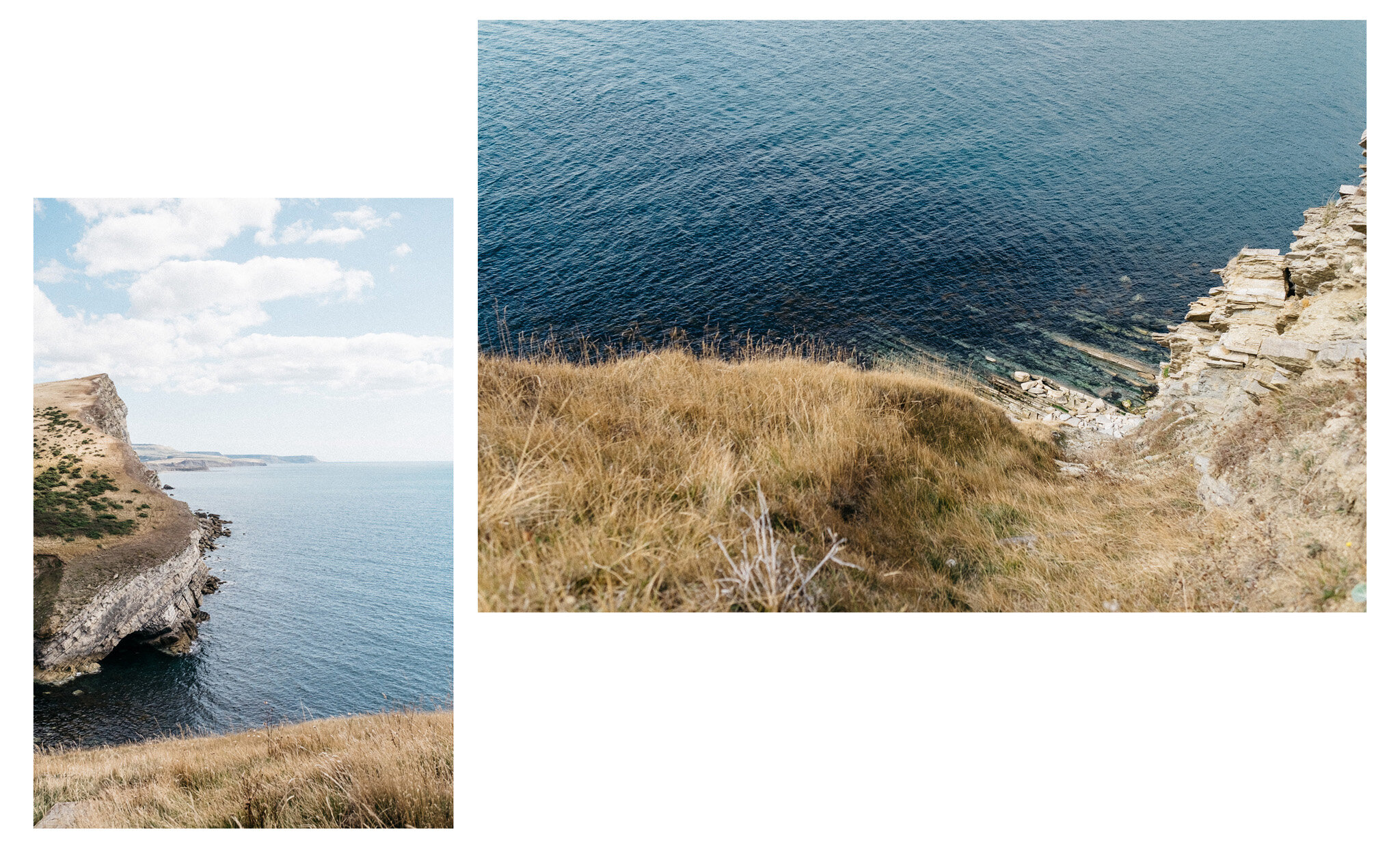 Back to the Corfe/Wareham area - Corfe Castle (National Trust) itself is worth a walk up to check out some of the views and the history of the castle. The steam train into Swanage is well worth a ride too - we hopped on at Harman's Cross (on a very rainy day) which is walkable from Woodyhyde. The train is run by Volunteers and only adds to the charm of it, it's all very Wes Anderson. Warning - make sure you carry cash for the train, we had a lovely guy who put his trust in us to pay at the other end but you may not be so lucky! Check the website for timetable and prices.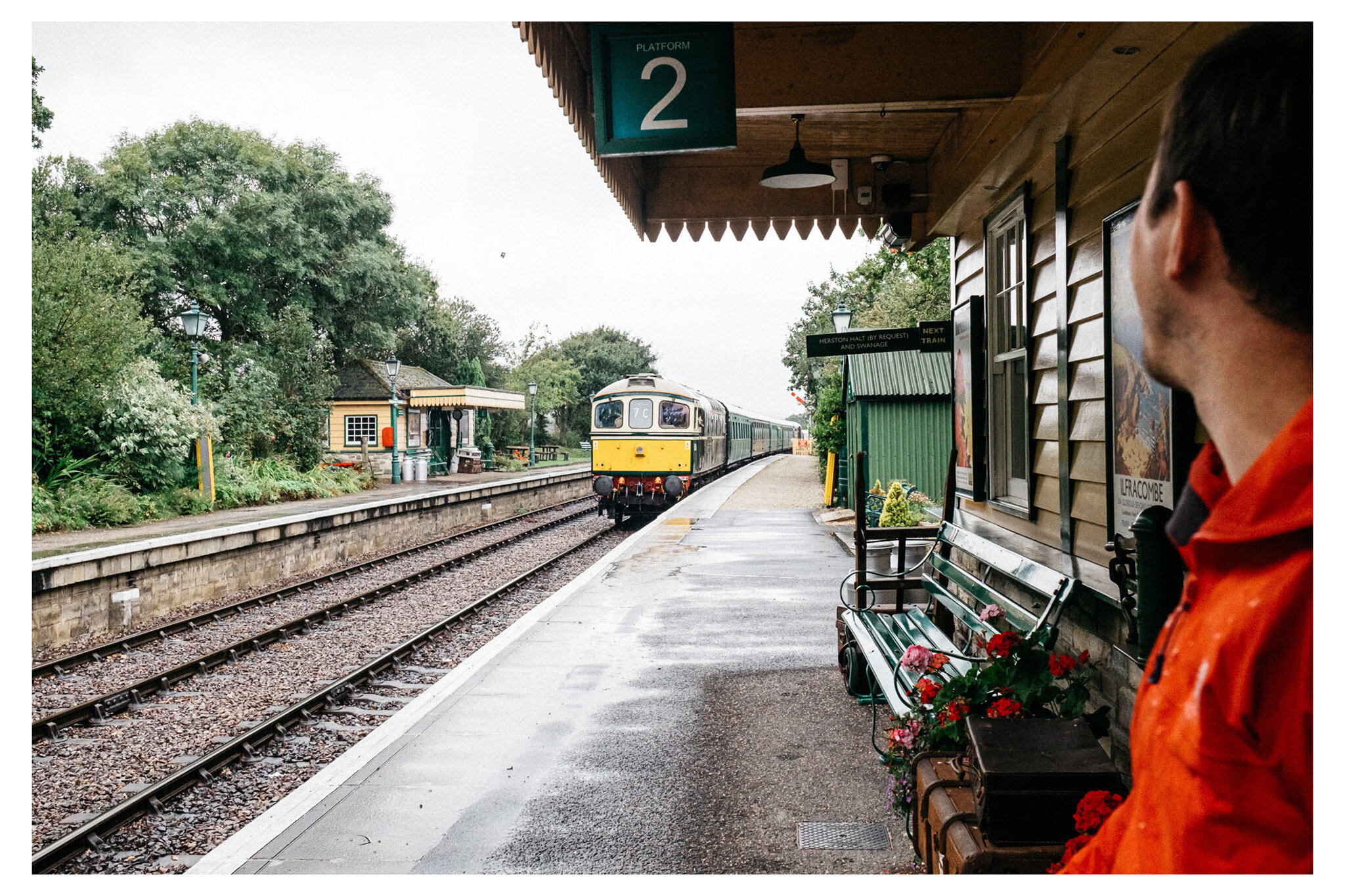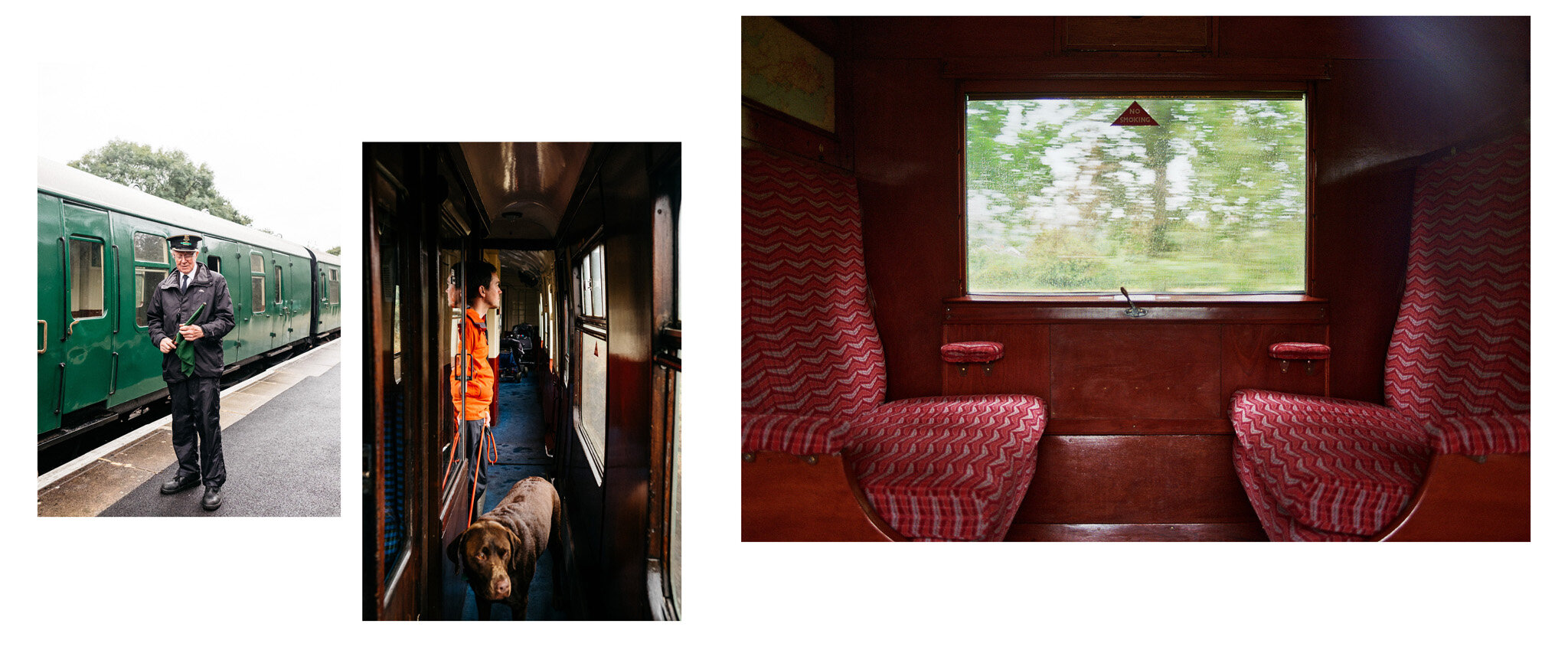 In Swanage itself there are lots of shops to look round (including a homeware store where you can stock up on any camping essentials for a good price) and a few beaches that are cute to walk along. Monty spent a good 40 mins digging for fish near the pier (the dog friendly bit) while we stood chatting to another labrador owner in the rain! The pubs were a bit hit and miss but we stumbled across Java - an independent coffee house and vegan cafe - where we had a delicious lunch and even better cakes. Highly recommended. If you're feeling active definitely head on up to Durlston Country Park - it's a real cobweb blower and a beauty of a walk.
An absolute favourite of mine is a walk from Worth Matravers down to Winspit Caves - park in the main car park (not forgetting to contribute to upkeep of the car park), turn right down the road and turn right to do the short version, picking up the path in the centre of the village down by a row of terraced houses and just come back on yourself. Alternatively turn left at the pub and pick up the path through the fields to walk some more of the cast and come back along the path mentioned above after checking out the caves - we did this at sundown and it was perfect. This walk absolutely must be followed by a pint of ale in possibly the best pub in the UK - The Square & Compass - you will be charmed by the serving hatch, stone tables and the fossil museum.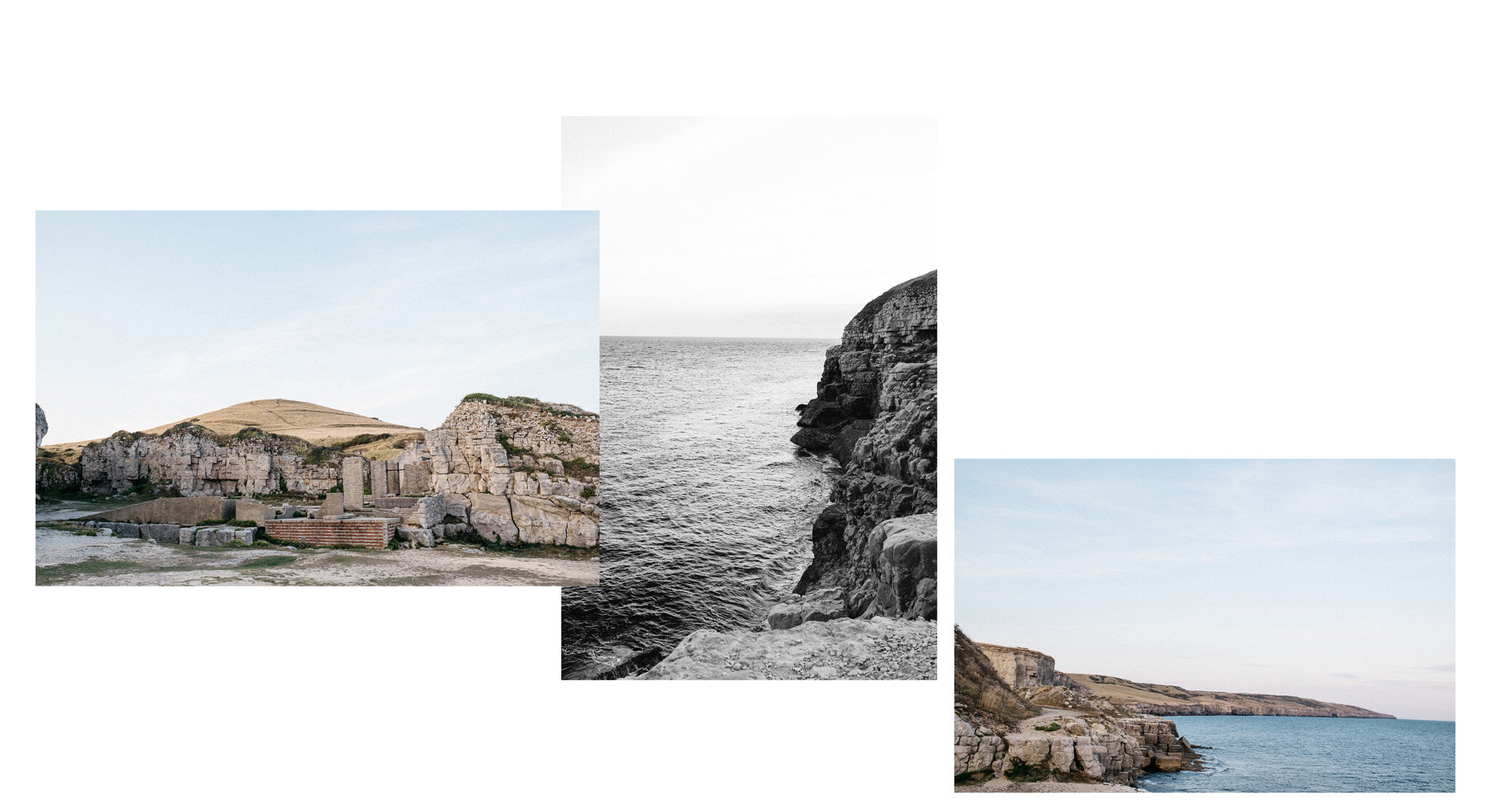 I can't fail to mention Studland beaches - they can be found east to Swanage and are beautifully sand with clear, shallow water. My favourite is South beach with views of Old Harry Rocks and the little shack selling ice creams and tea but Knoll beach is also well worth a visit - I recommend parking at the end of the car park to the left as you come in and making your way through the dunes for a nice quiet spot on the beach. You can also hire watersports kit on this beach if you want an active beach visit.
What we ate
It just so happened I was on a shoot with She Can't Eat What in the week prior to us camping in Dorset and I was inspired by this recipe - it all became very clear the trick to camping is to just roast a load of veg to take to stir into pasta and such for easy meals. It proved to be the ultimate camping hack! We did an Ocado order a few days before we left Brighton (I know - what a pair of poodles) and it took a lot of stress out of packing the car up as it was all done and ready to go. We went for pasta, pumpkin gnocchi and truffle ravioli to stir the roasted veg into - don't forget salt, pepper and olive oil. Then things like sourdough, a large pack of eggs, crisps, beer, gin, tonic - you know all the essentials! We mainly had scrambled eggs on toast in the mornings (toast made by frying in a bit of butter in a pan), ate out at lunchtime and then had a pasta/veg dish at the campsite in the eve.

Simon has a couple of fancy contraptions that make boiling things quick and easy - one is the Alpkit BruKit and the other is a Trangia camping stove. I also have a little camping stove and between those we had everything we need for cooking. I am going to do an essential camping kit post soon!
Do you have any favourite Dorset spots we should explore? Let me know in the comments!
Images in this post were either taken on a Fuji XT1 or a Canon AE-1 on Kodak film.